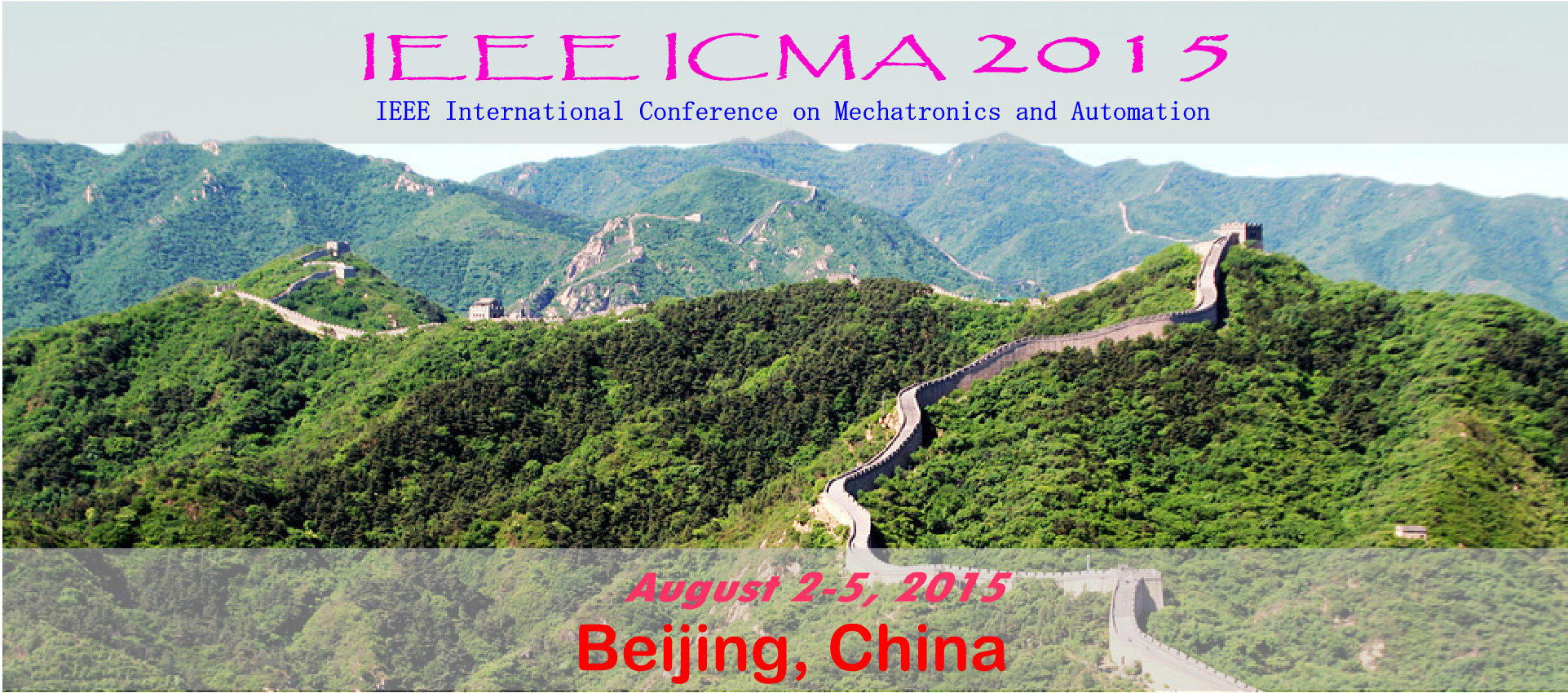 The IEEE ICMA 2015 has been held in Beijing, China from August 2 to August 5, 2015. Thank you for a successful, record-setting IEEE ICMA 2015.
See you all again at IEEE ICMA 2016 Harbin, China from August 7 to August 10, 2016.
---
Please download the PHOTOS of IEEE ICMA 2015 Conference here: Photos of IEEE ICMA 2015
Please download the CD-ROM of IEEE ICMA 2015 Conference here: CD-ROM of IEEE ICMA 2015
---
Conference Awards
Best Student Paper Award:

Design of Electrode Topologies for Dielectrophoresis Through the Use of Genetic Optimization with COMSOL Multiphysics
Steven Kinio, James K. Mills
Object-oriented Modeling of Machine Tool Feed Axes: an Approach to Analysis of Control Parameters
Yi Xie, Denis Özdemir, Werner Herfs
Toshio Fukuda Best Award in Mechatronics:

Characteristics of Vision-Based On-Chip Pressure Sensor with Different Concentrations of Sensing Fluid
Frederike Hesse, Chia-Hung Dylan Tsai, Makoto Kaneko
Best Paper Award in Automation:

Robust Direct Visual Inertial Odometry via Entropy-based Relative Pose Estimation
Jianjun Gui, Dongbing Gu, Huosheng Hu
Best Conference Paper Award:

A homography-based visual inertial fusion method for robust sensing of a Micro Aerial Vehicle
Ping Li, Matthew Garratt, Andrew Lambert
&nbsp
The 2015 IEEE International Conference on Mechatronics and Automation (ICMA 2015) will take place in Beijing, China from August 2 to August 5, 2015.
Organized Sessions: Proposals with the title, the organizers, and a brief statement of purpose of the session must be submitted to an OS Chair by April 10, 2015. An invited session consists of at least four papers that must be electronically submitted for review using the same procedure for contributed papers.
Contributed Papers: All papers must be submitted in PDF format prepared strictly following the IEEE PDF Requirements for Creating PDF Documents for IEEE Xplore®. The standard number of pages is 6 and the maximum page limit is 8 pages with extra payment for the two extra pages. See detailed instructions in the conference web site. All paper accepted by IEEE ICMA 2015 with all conference content will be submitted for inclusion into IEEE Xplore as well as other Abstracting and Indexing (A & I) databases, also will be indexed by EI.
Extensions of selected papers will be published in a regular or a special issue of the following journals:
Important Dates:
| | |
| --- | --- |
| April 10, 2015(US Pacific Time) | Full papers and organized session proposals |
| May 1, 2015 | Proposals for tutorials and workshops |
| May 15, 2015 | Notification of paper and session acceptance |
| June 1, 2015June 8, 2015 | Submission of final papers in IEEE PDF format |
For detailed up-to-date information, please visit " Prepare Paper Submission ".
General Chairs:
Program Chair:
Prof. Kazuhiro Kosuge
Prof. Qiang Huang
Department of Bioengineering and Robotics, Graduate School of Engineering, Tohoku University,
The Key Laboratory of Biomimetic Robots and Systems, Beijing Institute of Technology,
6-6-01 Aoba, Aramaki, Aoba-ku, Sendai 980-8579, JAPAN
5 South Zhongguancun Street, Haidian District, Beijing, 100081, China
Tel: +81-22-795-6914
Tel: +86-139-1022-0218
Prof. Jie Chen
Key Laboratory of Complex System Intelligent Control and Decision (State key laboratory base), Beijing Institute of Technology,
5 South Zhongguancun Street, Haidian District, Beijing, 100081, China
Tel: +86-10-68918255; +86-10-68912463
Copyright © 2003-2015 KAGAWA UNIVERSITY. GUO-LAB All Rights Reserved.
Members:
Visitors: